Regular price
$145.00 USD
Regular price
Sale price
$145.00 USD
Unit price
per
Sale
Sold out
Look no further If you're looking to display some American spirit in your home with this rustic "Don't Tread On Me" American flag wall art!

***For the yellow portion of the flag, I char the wood first then apply the yellow stain giving the flag a more rustic feel.

The Gadsden flag is a historical American flag with a yellow field depicting a rattlesnake coiled and ready to strike. Positioned below the rattlesnake are the words "DON'T TREAD ON ME." The flag is named after American general and politician Christopher Gadsden (1724–1805), who designed it in 1775 during the American Revolution.

This one of a kind pictured handcrafted rustic wood flag measures 20" X 37". We offer a total of three sizes to fit all of your needs.

* 13" x 24"
* 20" x 37"
* 26" X 48"

The "Don't Tread On Me" portion is laser engraved ensuring crisp lines and awesome detail within the engraving. Each piece of wood is hand selected and meticulously prepared to ensure a truly wonderful and striking piece. The stripes are stained Red, White stripes on this flag are natural pine and the union is blue. The thirteen stripes are glued together with interior/exterior glue. To ensure longevity, the back of the flag has 1" x 3" wood strips glued and stapled to the back of the flag.  The flag is then charred to perfection.

Each flag is finished with four coats of indoor/outdoor clear gloss spar urethane. The flag is shipped ready to hang D-rings and 60 pound picture wire. 

**Please note that there may be variations in colors due to lighting as well as variations in the pieces of wood. The stripes may not be perfectly flush with each other.**
View full details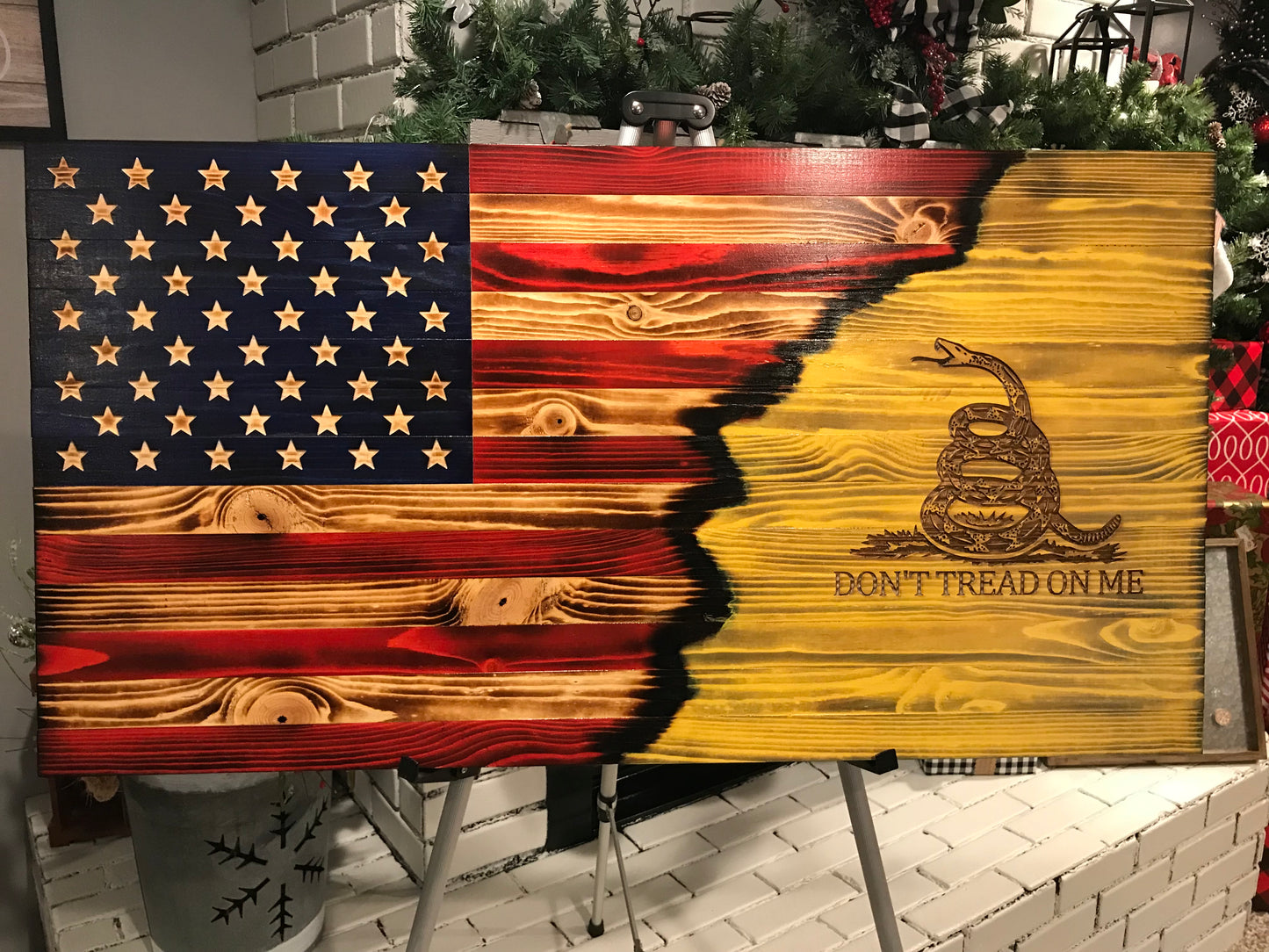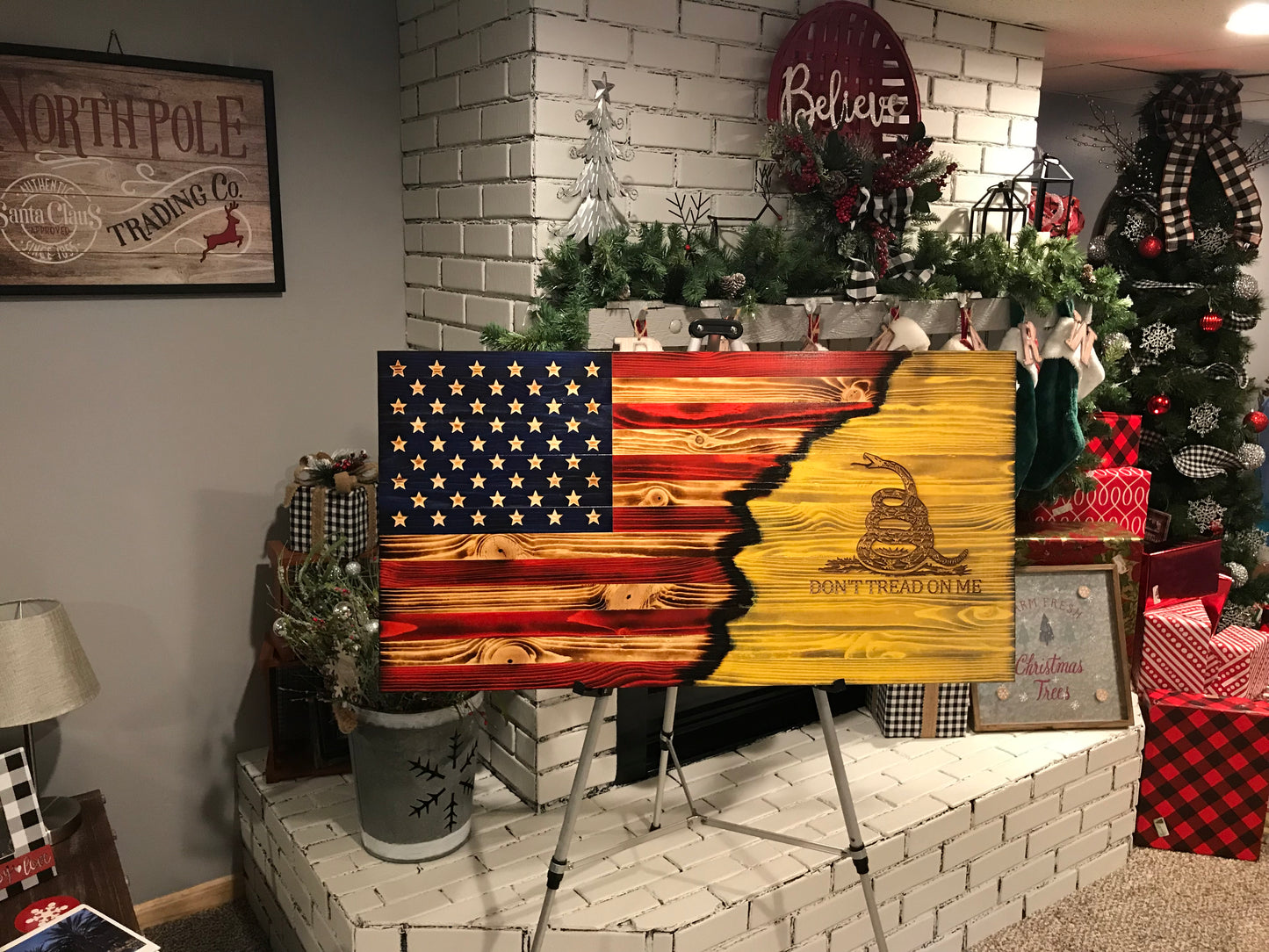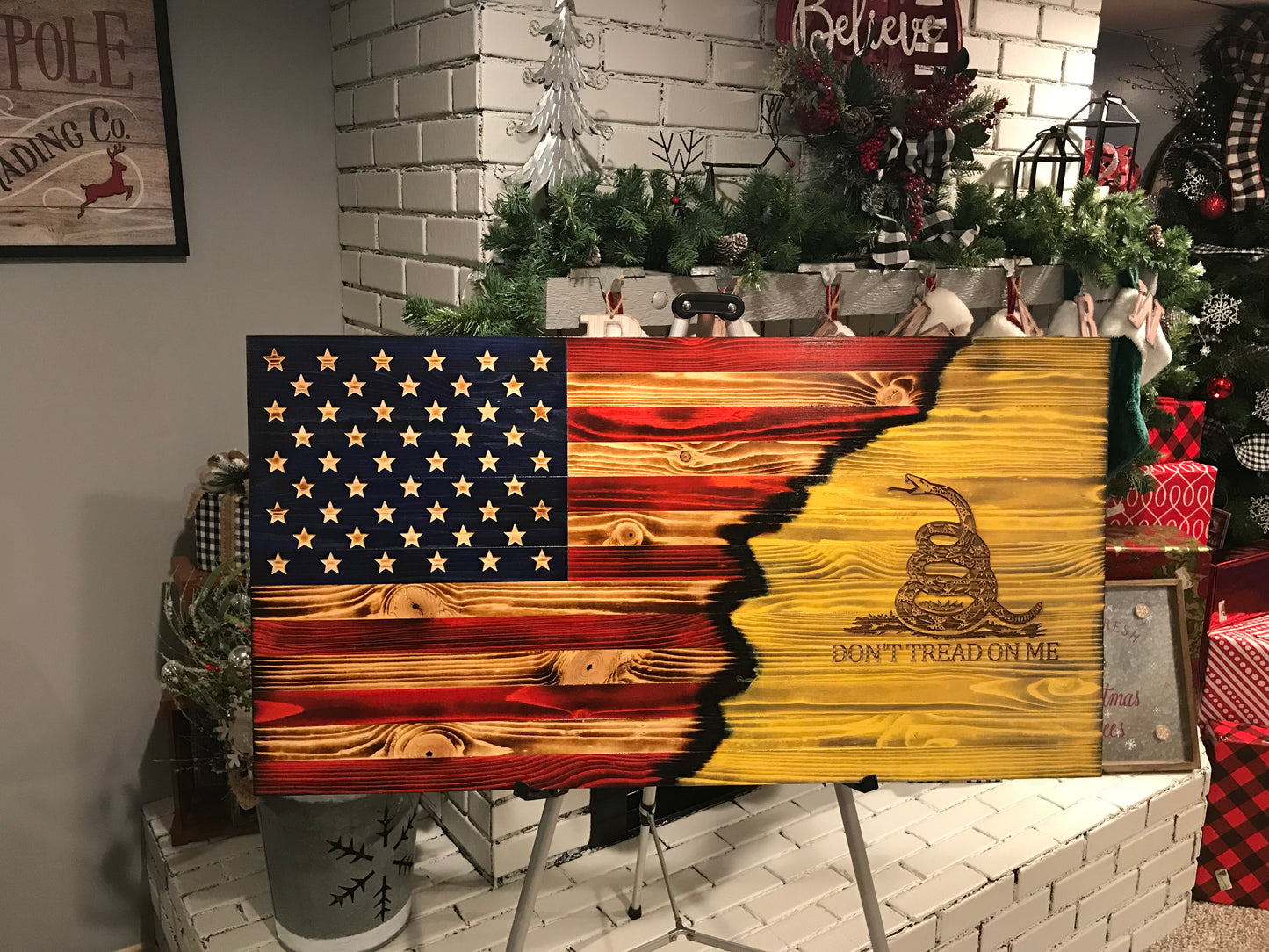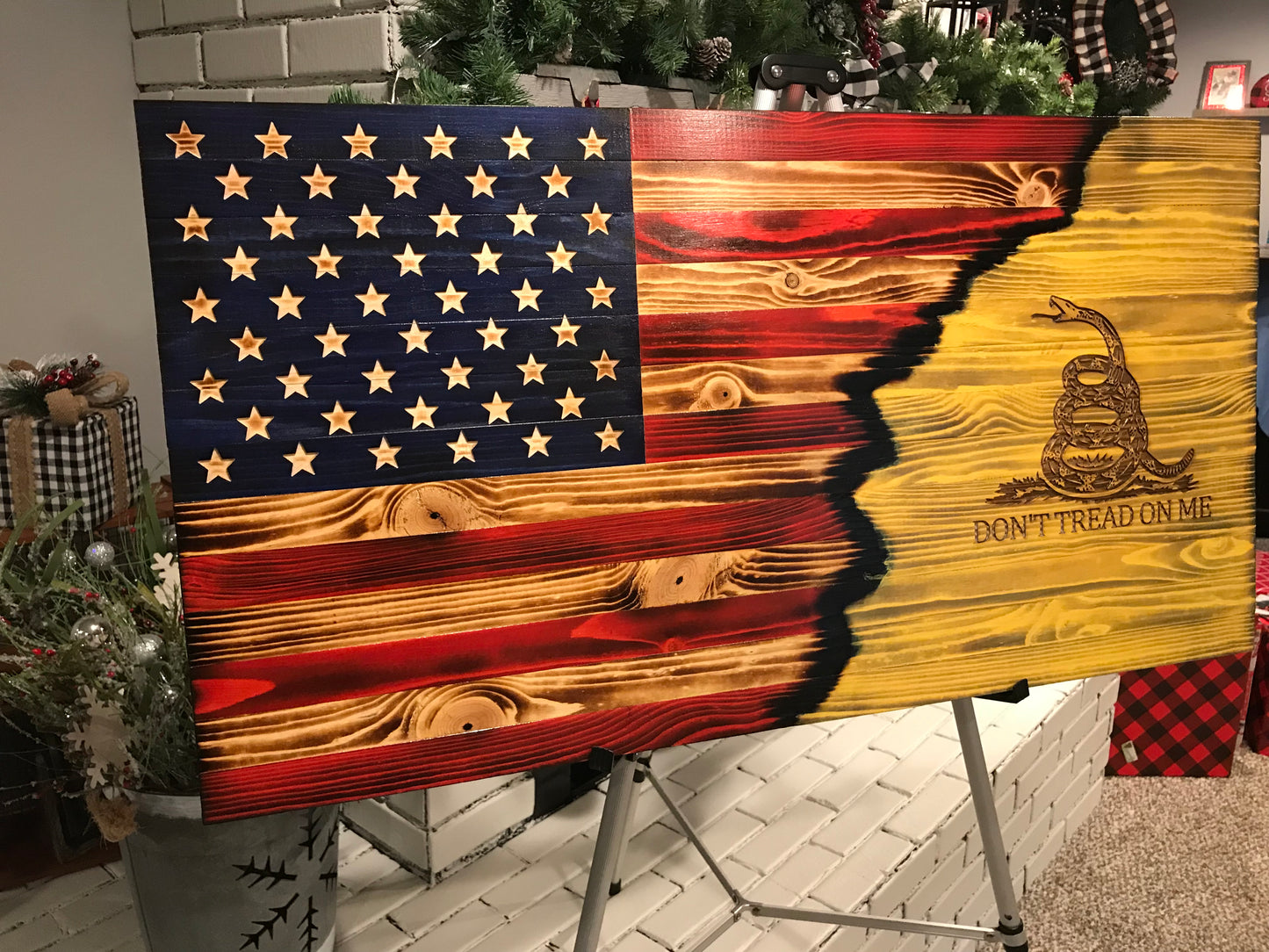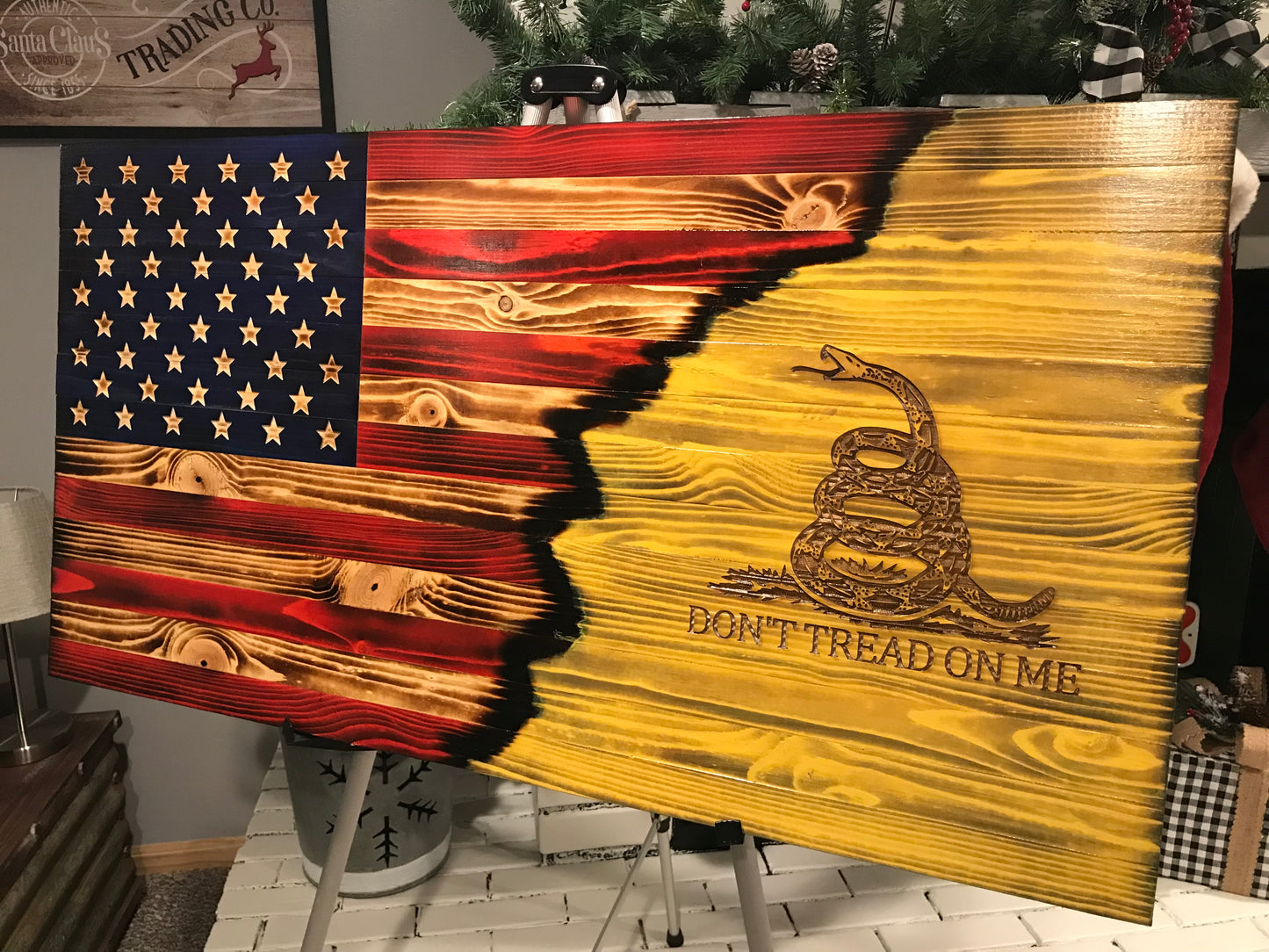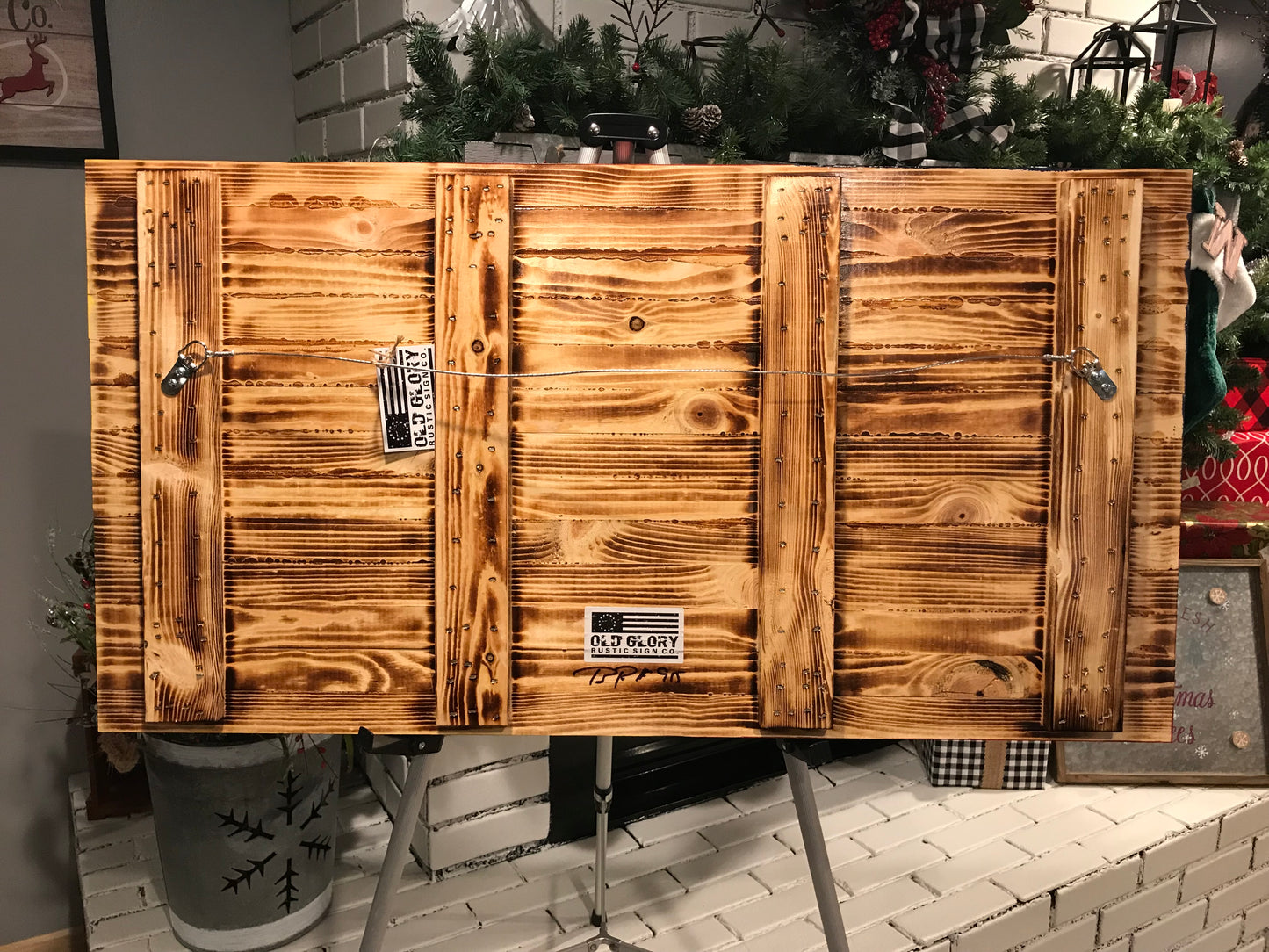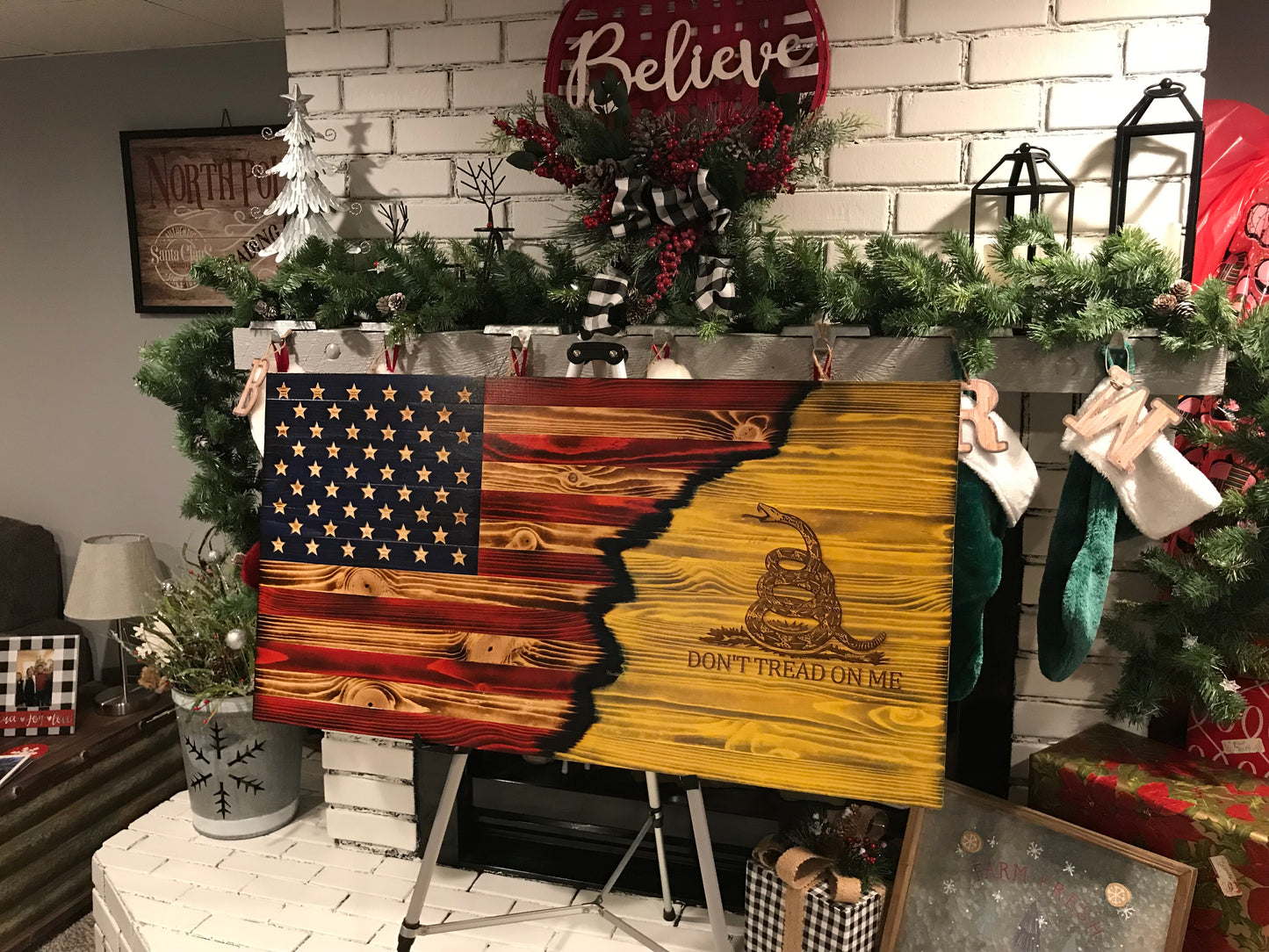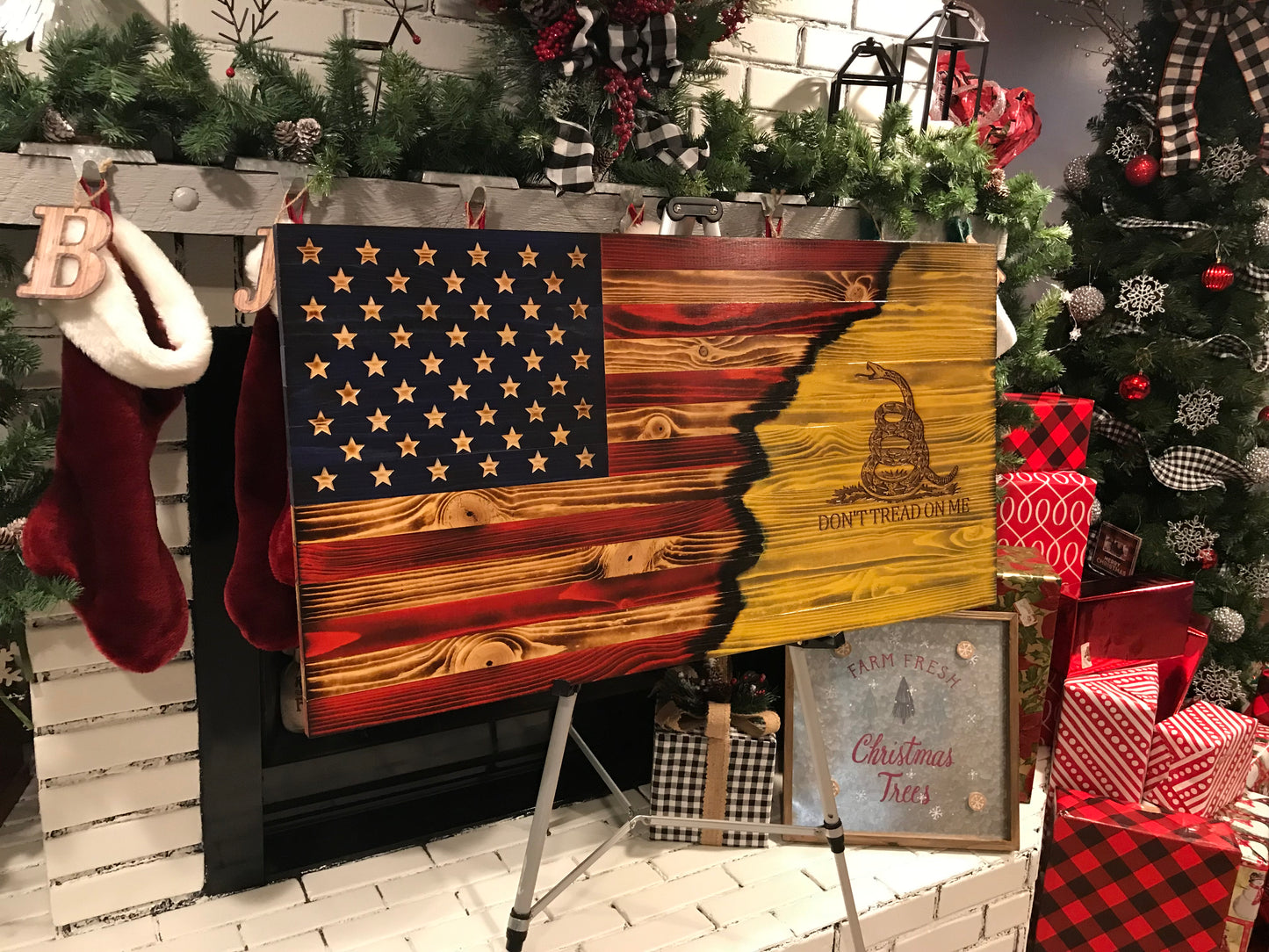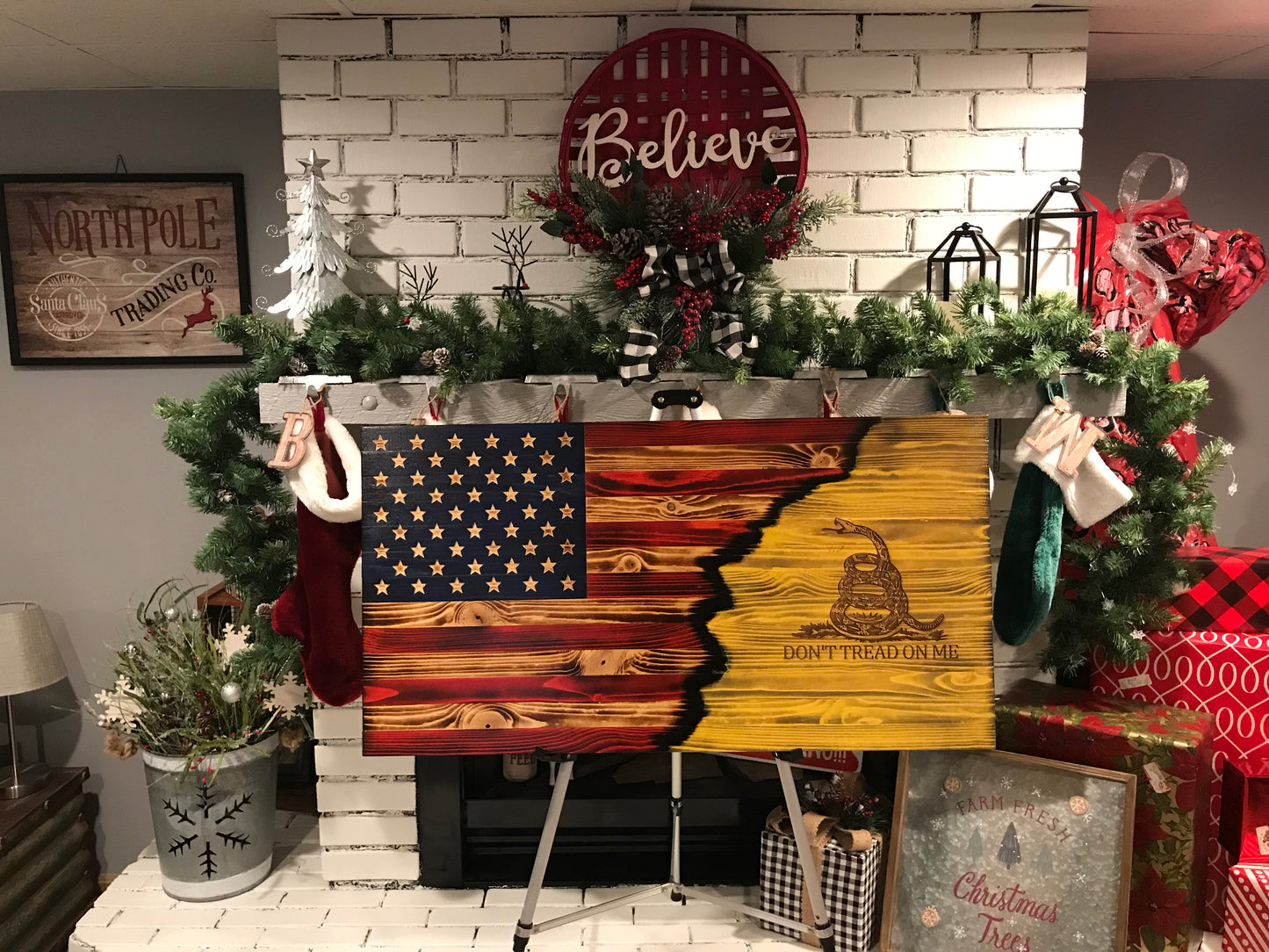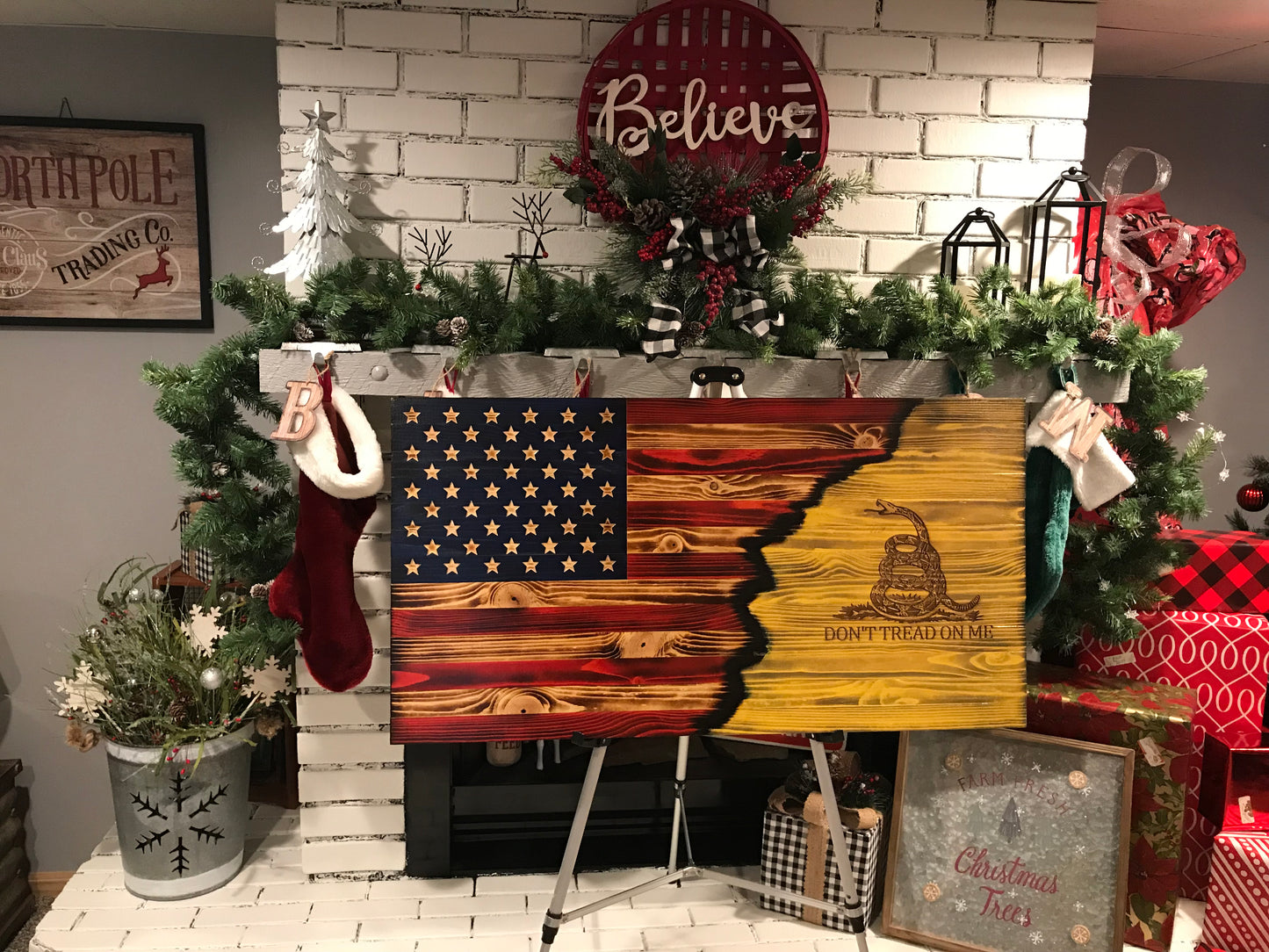 Top Quality
Love the look and craftsmanship. Worth every penny and proudly hanging in my living room. I get tons of compliments on it, definitely recommend buying one for yourself.
AMAZING!!
Exactly as it should be, beautifully crafted and well built. This is the 2nd one I've had made, will be ordering more for a couple family members.
Best Gift Ever
My husband LOVED his flag! He's got more on his wish list so my holiday shopping should be a breeze for a while.
Gadsden Flag
Just received our flag and it is beautiful. Thank you for the care that went into this flag.
We really love our flag!
Wish we could order another of these great pieces of art and patriotism. Thank you vets!
C.B. Mitchell